Meet Our Colts Neck Veterinarians!
Jenny Vokral, DVM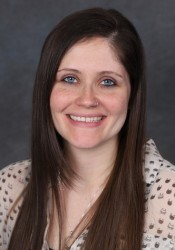 Dr. Jenny Vokral completed her undergraduate degree in biology at the State University of NY at Oneonta, and her Veterinary degree from Ross University and the University of Florida in 2014. She had been working in North Jersey for several years before joining Colonial in December 2022. One of her special interests includes acupuncture, and she is currently training to become certified in veterinary acupuncture. In her free time, she enjoys hanging out with her husband, new baby boy, 2 cats (Orion and CJ), and their American Staffy (Archie.) She also enjoys listening to music, going to concerts, painting and drawing.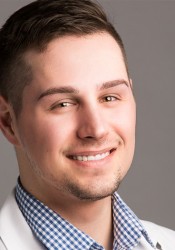 Michael Schindewolf, VMD
Dr. Schindewolf, a Robbinsville native, returned to New Jersey in 2016 after graduating from the University of Pennsylvania where he obtained his veterinary degree. Prior to attending veterinary school, Dr. Schindewolf was an "Aggie" at Delaware Valley University in Doylestown, PA, and obtained his Bachelor of Science degree in Small Animal Science. Following veterinary school, he completed a one-year rotating internship at Red Bank Veterinary Hospital. Dr. Schindewolf is Fear Free Certified as of early 2019. His special interests in the veterinary field include ophthalmology, emergency medicine, and internal medicine. Outside of work, he enjoys running, playing volleyball, reading, and spending time with his family at the beach.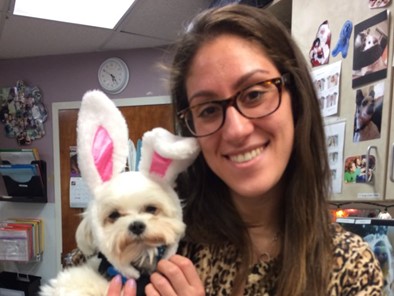 Elaina Petrone is originally from New England. She completed her undergraduate studies at Manhattan College where she majored in Biology and minored in Chemistry. After college she went on the earn her degree in Veterinary Medicine from the University of Pennsylvania. After graduation, Dr. Petrone completed a one-year internship in Small Animal Medicine and Surgery at Oradell Animal Hospital in Paramus, New Jersey. Dr. Petrone attended the Academy of Veterinary Imaging in Dallas, Texas and is a graduate of the Small Animal Veterinary Ultrasound Imaging Program
Dr. Petrone joined Long Branch Animal Hospital in November of 2020. She treats dogs, cats, rabbits, ferrets, guinea pigs, and other small mammals/pocket pets. Her special interests include ultrasound, dentistry, dermatology, internal medicine, feline medicine, cardiology, and geriatric medicine. She enjoys cooking, yoga, hiking, and spending time with her family, friends, husband Mike, and their pets Milton (Maltese), Scarlet (cat), and Gwen (cat).
Dr. Jose Pla, DVM
Dr. Pla is a co-owner of Long Branch Animal Hospital. He obtained his DVM degree from Cornell University in 1995 and his MBA from Rutgers University in 2018. Dr. Pla is a passionate dog and cat doctor with special interests in behavior, nutrition and gastrointestinal diseases. Dr. Pla strongly believes in the power of education, not only for personal and professional growth but most importantly for a clients ability to make informed decisions regarding their pets' health. When not practicing medicine; he is a avid sailor, scuba diver and wanna-be photographer. Activities he shares with his wife and two sons. At home; he is owned by his cat, Phineas, and managed by his dogs, Quincy and Lola. Two parakeets and lots of fish round out the families pet menagerie.
Dr. Neal Beeber, DVM
Dr. Beeber is a native of New Jersey. He did his undergraduate work at Cook College; a division of Rutgers University. He attended Michigan State University for his veterinary degree. After graduating he did a medical and surgical internship at Oradell Animal Hospital. In 1992, Dr. Beeber became one of only 10 veterinarian's in New Jersey to be board certified in companion animal medicine. He has a special interest in treating exotic pets, especially ferrets. Dr. Beeber has contributed chapters to two veterinary textbooks and numerous scientific journals on the medicine and surgery of ferrets. He also completed training in veterinary acupuncture and herbal medicine in order to be able to offer his patient alternative and complementary treatments. Dr. Beeber also has a special interest in orthopedic and laparoscopic surgery. Dr. Beeber has served as president of the New Jersey Veterinary Medical Association and president of the NJ Board of Veterinary Medical Examiners. He has also served as the Chairman of the New Jersey Veterinary Foundation, an organization which raises money to help alleviate animal suffering. He shares his love of animals with his wife Michelle and son Jacob.